Heating oil tanks have remained virtually unchanged for decades. And unfortunately, so have the gauges inside them! The most basic type of oil tank gauge, which most heating oil tanks have, is called a float gauge. Float gauges notoriously go bad over time, and in this post we will talk about the accuracy of a heating oil tank gauge.
How a Float Gauge Works
A float gauge is a very simple mechanism that is mounted in the top of a heating oil tank. It features a plastic sight at the top, with a disc inside to indicate the level. This disc is attached to an articulating arm with a hinge in the middle. At the other end of the arm is the float itself. While the floats were originally made of cork, they are now usually a plastic material that lasts longer.
As the level of oil lowers, the float lowers with it, and the disc is lowered accordingly.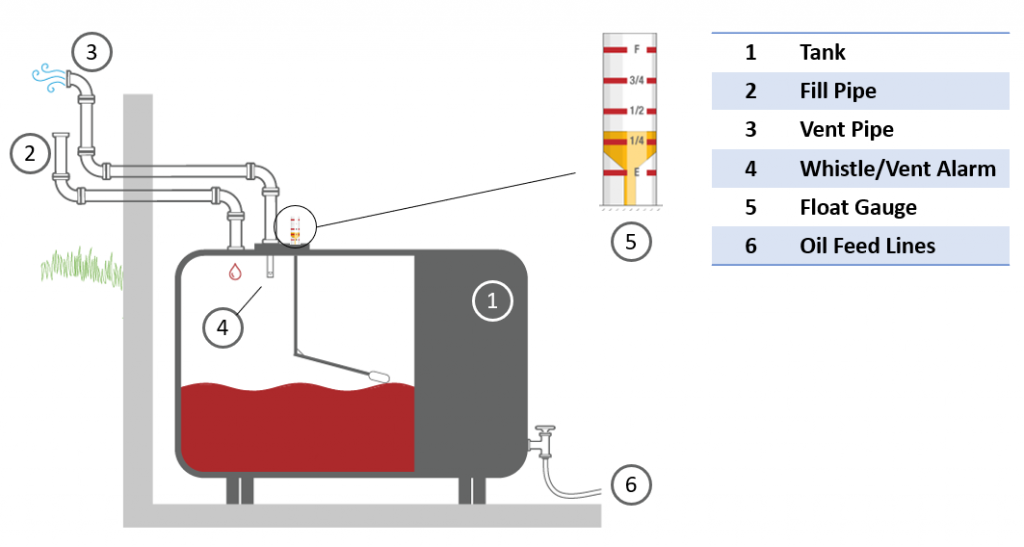 How To Read a Float Gauge
The disc in the plastic sight on a float gauge indicates an approximate level. The key word here is approximate. A float gauge is not a precision instrument.
When reading a float gauge, you will need to know what size oil tank you have. Most oil tanks are 275 or 330 gallons and look like the one pictured below.
Tip: A 275 gallon fuel oil tank measures five feet long, while a 330 tank measures 6 feet long.
Once you know your tank size, you'll have to determine what your float gauge is reading. The levels are primarily fractions of a tank: 1/4, 1/2, 3/4, or Full. Refer to our heating oil tank charts to determine how many gallons are in the tank.
To be safe, always reorder home heating oil at a quarter (of a tank) when using a float gauge!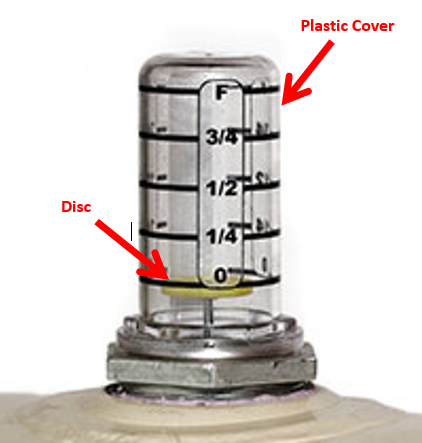 How Accurate is the Float Gauge?
Unfortunately, a float type gauge is not a very accurate device. There are two main reasons for this.
Float Gauges Go Bad Over Time
After many years sitting in heating oil, the float can actually build up sludge over time. This float below was removed after it was no longer working properly.
Furthermore, the float gauge can occasionally end up getting stuck. If the gauge rotates at all in its fitting, the float arm will get stuck against the side of the oil tank, causing the level to not change.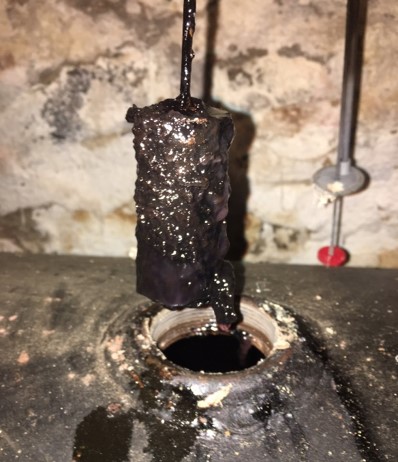 Float Gauges Do Not Account For the Actual Tank Geometry
Since float gauges simply work by having the arm go up and down, they do not take into account the curvature of the oil tank. In the middle of the fuel oil tank, the walls are straight up and down. As such, there is significantly more oil than in the bottom section of the oil tank where the walls curve in (see below). When an oil tank gauge reads 1/4 or below, the level will suddenly start lowering more quickly without warning.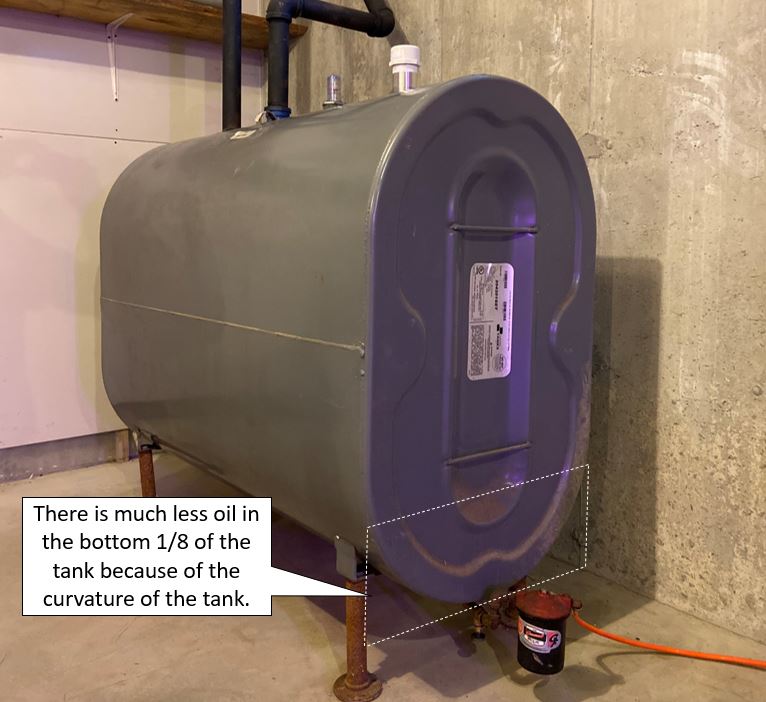 A More Accurate Heating Oil Tank Gauge
Fortunately for heating oil users, there is a more reliable oil tank gauge available now. The Smart Oil Gauge uses an ultrasonic sensor to detect the oil level in the tank. It also knows the exact geometry of the oil tank – including the rounded edges! As such, it outputs a specific number of gallons remaining instead of just an approximate level.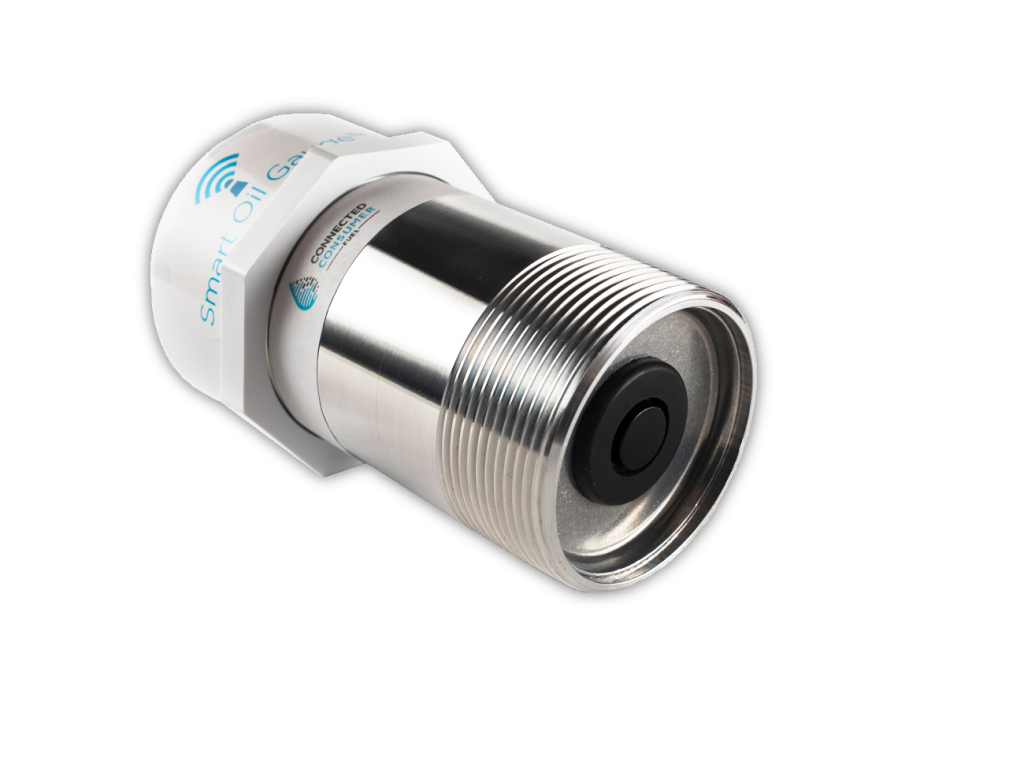 Smart Oil Gauge Tracks Gallons Per Day
Because the Smart Oil Gauge records readings all throughout the day, you can get a handle on exactly how much home heating oil you are using. Some of the useful statistics it will provide are:
Current oil usage (gallons per hour and gallons per day)
Days until you will be at 1/4 tank
Days to 1/8 tank
Total gallons used (per day, week, month, or year)
How much home heating oil can be delivered to your oil tank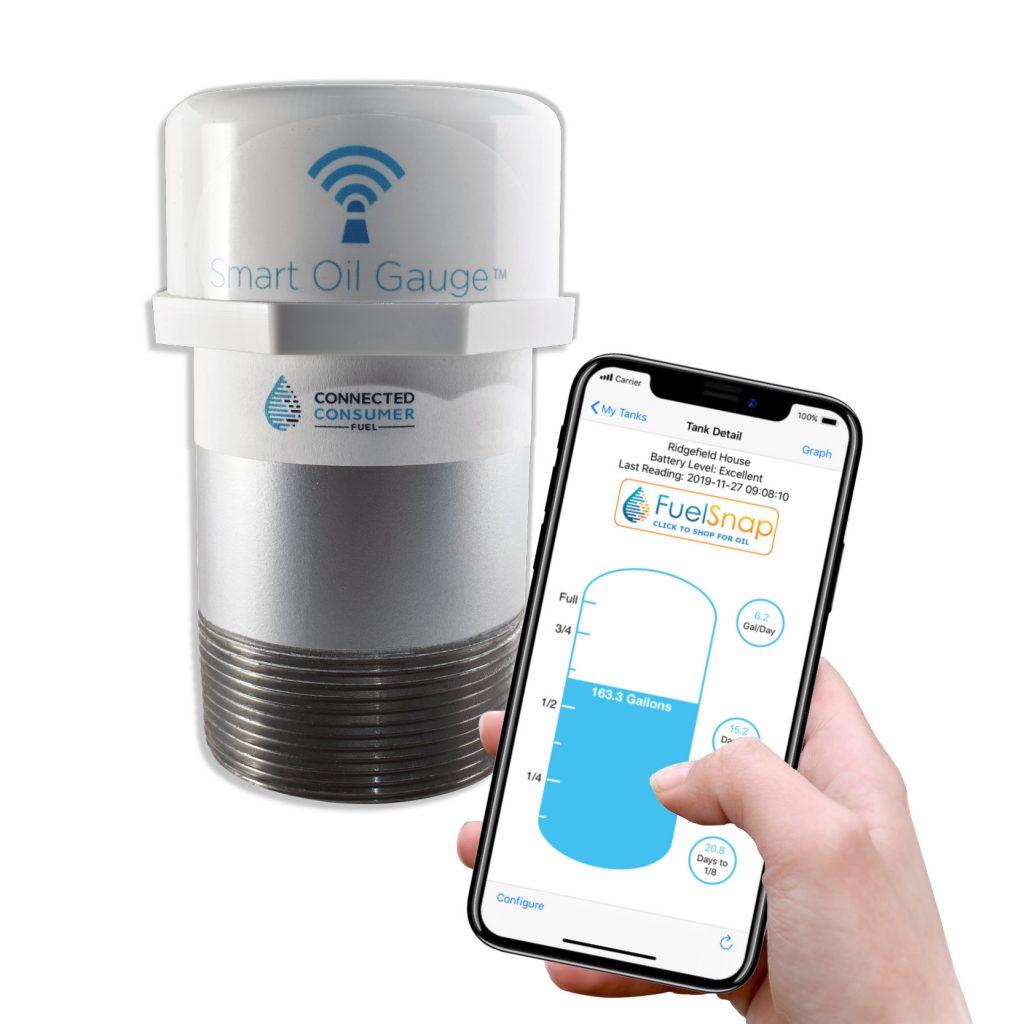 Track Your Monthly Usage, And Reorder Heating Oil Online Quickly
With the Smart Oil Gauge, you can track exactly how much heating oil you are using. The app ties directly to FuelSnap so you are able to shop for heating oil online as soon as you are low. This information will allow you to schedule your home heating oil delivery around your own needs.
An Accurate Heating Oil Gauge
While a float gauge is not very accurate, a Smart Oil Gauge is. The one limitation to the Smart Oil Gauge is that it cannot give a precise reading in the top 8″ of the oil tank. This is because the oil is too close to the sensor when the oil tank is topped off.
Below that top 8″ mark, however, and the Smart Oil Gauge is extremely reliable. And if you would still like a visual oil tank gauge, you can often leave the float gauge installed as well. The Smart Oil Gauge would go in an extra opening on the tank. Knowing how to read a heating oil tank gauge is undoubtedly important, but with Smart Oil Gauge you can view your oil tank level on your phone!
I use my Smart Oil Gauge to make sure I only order oil when I need it. I can watch prices periodically, and then order heating oil online through FuelSnap using my saved credit card when I'm ready. It really doesn't get any more convenient than that, and I never have to worry about how much heating oil is in my oil tank.
Happy heating,
Steve