As a good practice, we recommend inspecting your home heating oil tank at least once per year. In fact, many home heating oil companies will require an in-person oil tank inspection prior to your first home heating oil delivery. While the inspection only takes a few minutes, there are some important things to look for while inspecting your home's oil tank. We'll break them down below!
How to Inspect Above-Ground Heating Oil Tanks
While there are still many homes with in-ground heating oil tanks, there is really no way to inspect those oil tanks since they are out of sight. If your oil tank is above-ground though, it is important to check its condition periodically. Heating oil tanks – also known as fuel oil tanks – are typically steel and oval-shaped. Below is a common Granby 275 gallon steel oil tank. This is by far the most commonly installed heating oil tank in the Northeast US. Below are the six things to look for when inspecting a tank such as this.
Step 1 – Inspect the Oil Tank for a Solid Base & Footing
Ensuring the floor that the oil tank is sitting on is solid is a crucial step. Even in a basement, the ground can settle over time which could create issues with your oil tank. All four legs of the oil tank should be inspected to ensure they are rust-free and providing good support. A home heating oil tank with 250 gallons of oil weighs over 2000 pounds! This is as much as a small car, so it is critical that those oil tank feet are on stable ground.
Inspecting the base and footing is even more important on an outdoor oil tank. The oil tank should be sitting on a single, uniform concrete slab. It is not acceptable to have each leg of the tank on a separate cinder block, for instance, as one could shift and cause the whole tank to lean. This can cause the fitting to bend at the bottom of the tank, causing a catastrophic spill.
Step 2 – Check your Oil Tank for Rust Free Seams
The perimeter and sides of a steel oil tank are welded together. Because of the potential for imperfections in the welded area, these seams should be inspected for rust. Once they begin to rust, oil can start slowly leaking out of your tank. Look for any signs of leakage on or around the seams of the oil tank.
Step 3 – Look for Leaks at the Bottom of the Oil Tank
Similar to the seams, the bottom of the home heating oil tank tends to be susceptible to corrosion from the inside out. This is because certain blends of home heating oil are hygroscopic, meaning they absorb water. Water can lead to corrosion inside the fuel oil tank and eventually that corrosion leads to small holes along the bottom of the tank. Check to make sure the bottom of the fuel oil tank shows no signs of leaks. Also pay close attention to the fitting where the oil comes out at the tank. This fitting is where the oil line meets the tank, so it is important that it is secured and free from leaks.
Step 4 – Look for Leaks at the Oil Line and by Following the Line to the Burner
The oil line itself can be prone to leaks, believe it or not. This is why modern oil lines are actually copper that is coated in plastic for one extra layer of protection. Check the oil line for leaks, and be sure to follow the line all the way to the your oil burner (furnace or boiler).
Step 5 – Check for Leaks at the Oil Filter
The oil filter is what the heating oil passes through on its way to the fuel oil tank. This is often found close to the oil tank, but is occasionally found alongside the burner as well. Since these are changed periodically, it is important to check them on an annual basis to make sure they are clean.
Step 6 – Scan for Leaks at the Top of the Fuel Oil Tank
While leaks at the top may seem less important than leaks at the bottom, it is still important to make note of them. Look to see if any oil has dripped from around the fittings at the top of the fuel oil tank. If you see oil there, it could mean that the oil tank has been overfilled before. Overfilling a tank can have major consequences, as the oil can spill out of those fittings and into the basement. In addition, oil can even make its way all the way out of the vent pipe and end up in the soil outside. If the fuel oil tank shows evidence of having been over-filled, then you may need a new vent alarm/whistle.
The vent alarm makes a sound as the oil tank is being filled. The driver listens for this sound when filling your home heating oil tank. Once the oil rises to about 7″ from the top of the tank, it touches the whistle, muffling the sound. The driver hears the whistle stop and shuts off the pump. If the whistle is not functioning, most dealers will not fill your home heating oil tank, as it could result in the tank being overfilled.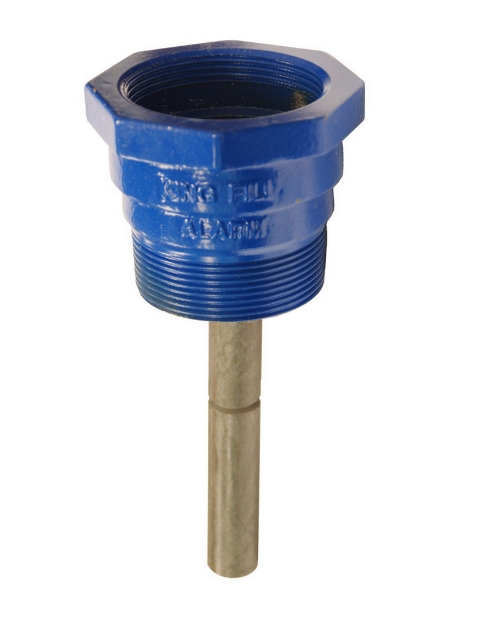 Remember to Inspect Your Heating Oil Tank Annually
Inspecting your oil tank at least once a year will give you peace of mind and help prevent an oil leak. If you find that your tank is showing signs of aging and needs to be replaced, then we recommend checking out our guide here on choosing a new oil tank. An oil tank can last up to 30 years, but a leak inside or outside your home can be devastating. Follow this guide once a year and you should be able to sleep well at night!
Happy heating,
Steve
p.s. A great way to avoid over filling your fuel oil tank is by always knowing how much oil is in your tank. With a Smart Oil Gauge, you can check your phone anytime and anywhere to find out how much oil you have. This way you can tell your heating oil company exactly how much you need.