Spring is here, which means it's a great time to think about HVAC maintenance. This includes servicing your heating and A/C systems, and taking on bigger projects as well. Whether you're in need of a new furnace or boiler, or even a home heating oil tank, the off-season is a great time to take care of these tasks.
In this post we will walk you through how to choose a new home heating oil tank. Home heating oil tanks typically last between 10 and 30 years, with some lasting decades longer if properly maintained. Today we will cover the two most common tank types: Granby steel tanks and Roth Double-Wall Tanks.
How a Fuel Oil Tank Works
First, you should understand the various components of a heating oil tank. The fill pipe is what the delivery hose hooks up to in order to pump oil into the fuel oil tank. The vent pipe allows air to escape from the fuel oil tank as the oil is being added. There is a whistle / vent alarm in the vent pipe that hangs down in the tank. As the air passes by the whistle and out the vent pipe, it makes a whistling sound that the driver can hear. This sound continues until the oil level rises and touches the bottom of the whistle. At this point, the sound is muffled, and the driver knows to stop pumping oil into the fuel oil tank.
The tank also features a gauge to indicate how much heating oil is in the tank. The fuel oil tank gauge is very important so we will discuss this further below. Finally, the oil feed lines leave either the top or the bottom of the tank and feed the burner.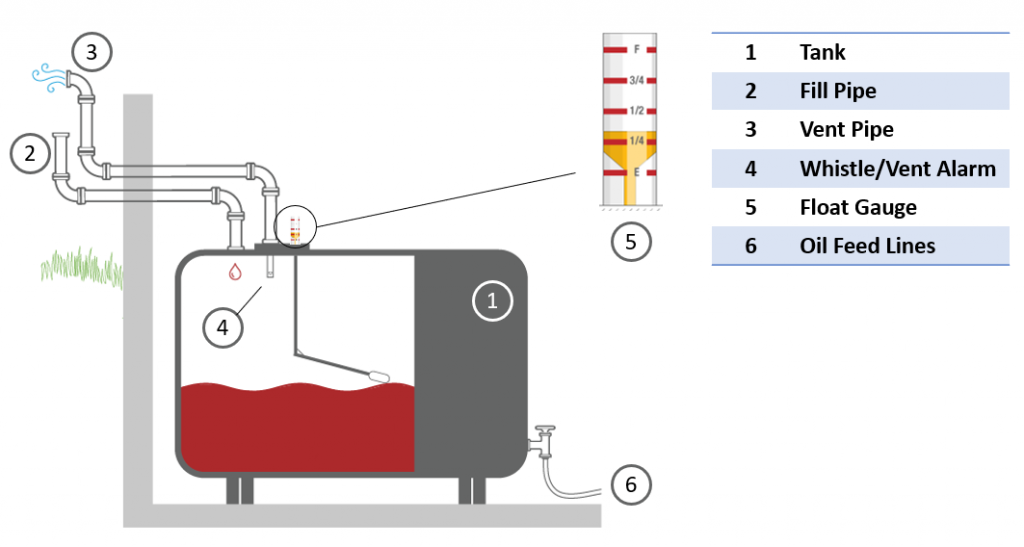 Granby Steel Tanks
By far the most common fuel oil tank choice, Granby steel tanks come in a variety of sizes but are most often 275 or 330 gallons.
They feature four openings along the top, as well as an opening on the bottom for the oil feed lines. This is important because having an extra opening on the top will allow you to have both a float gauge AND a Smart Oil Gauge. This will allow you to view the oil level from in front of the tank, as well as remotely from your phone.
The Smart Oil Gauge will not only tell you the precise level of oil in your fuel oil tank on your phone, but it will also tell you your consumption rates. You can see gallons burned per hour, day, week, month, and year. This allows you to conserve home heating oil by optimizing thermostat settings.
Granby steel tanks come in sizes ranging from 138 gallons to 330 gallons, and in a vertical or horizontal orientation for crawl spaces or other tight spaces. If your home already has a Granby steel tank, it will be easiest to replace it with the same tank. This is because the holes in the foundation for the fill pipe and vent pipe will already line up with the new tank. There will already be adequate space for the tank, and a changeover should be relatively easy. For more information be sure to review FuelSnap's home heating oil tank chart guide.
With Granby tanks, you can also easily add a second tank if you have room for it. The technician will install a few extra components to connect the fuel oil tanks, then you will have twice the storage capacity. This will allow you to easily buy home heating oil as needed through a site like FuelSnap, and save hundreds of dollars per year over automatic delivery.
Roth Double-Wall Oil Tanks
For a more modern fuel oil tank, Roth offers a great alternative. The Roth Double-Wall tanks feature an internal plastic tank, surrounded by an external metal tank. The benefit of the plastic tank is that it does not corrode, whereas other fuel oil tanks will. And in the event the plastic tank fails for some reason, the metal tank is designed to contain the spill.
Roth fuel oil tanks offer a smaller footprint than Granby tanks, and are very easy to maneuver into a basement (they are much lighter). That said, many installers do not have experience with Roth tanks, and will steer you toward a Granby solution.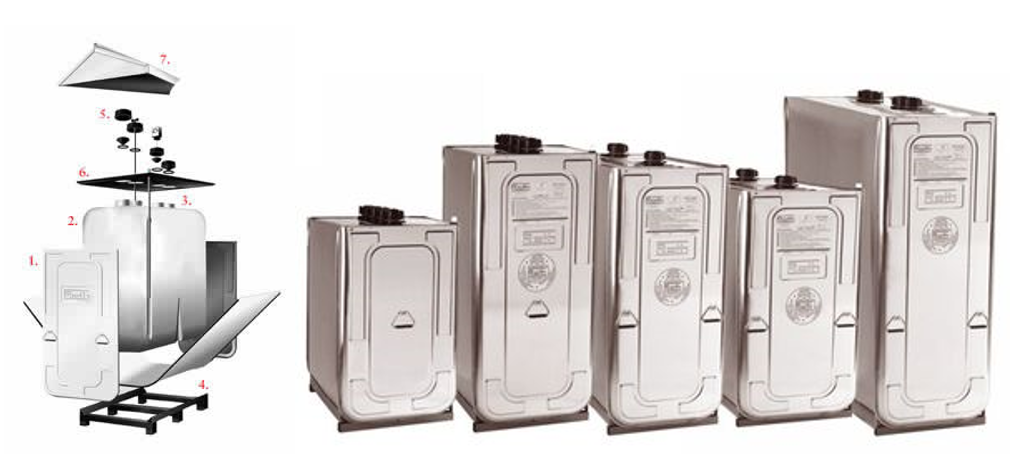 Roth fuel oil tanks feature four openings on the top: one for the fill, one for the vent, one for the oil feed lines, and one for the gauge. This is important to consider, because with a Roth tank you can only have one type of tank gauge. You can have a float style gauge OR a Smart Oil Gauge. The Smart Oil Gauge fits into an adapter made specifically for the Roth tanks. However, because of an internal support baffle, the Smart Oil Gauge will not work on a Roth 1500L (400 gallon) tank.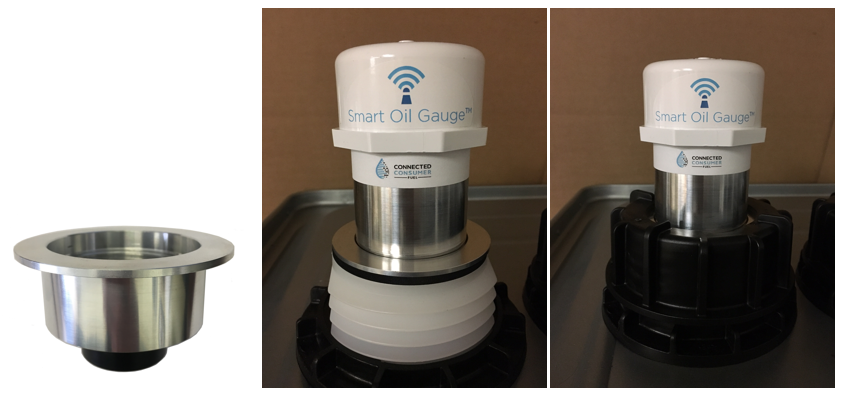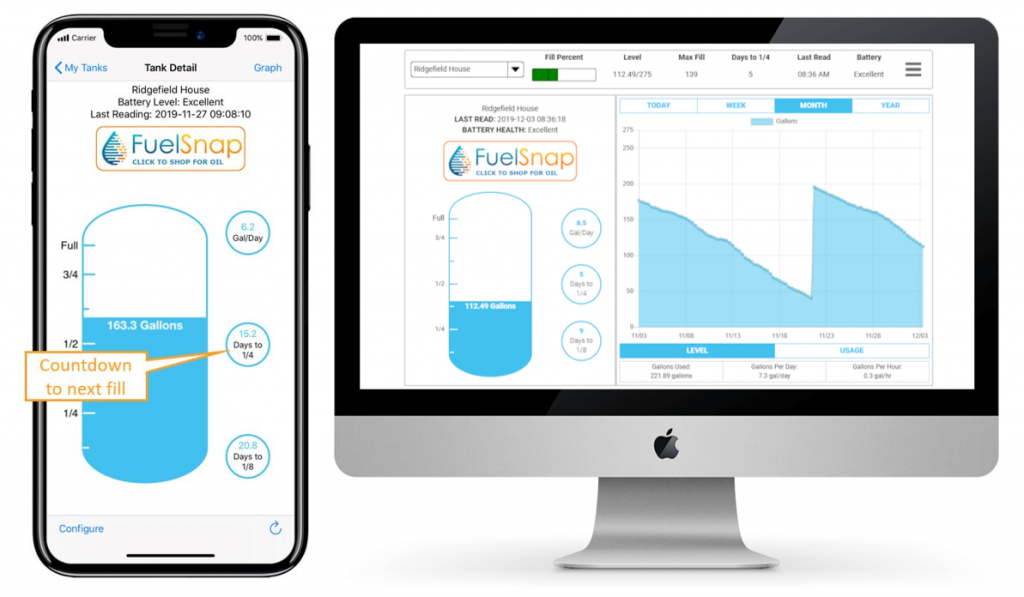 How to Choose Between Granby Steel Tanks and Roth Double-Wall Tanks
To help you decide, we've broken down a few of the key considerations below. Expect to pay a little more for a Roth double-wall tank. For a 30-year warranty, however, it may be money well spent. For a solid, well-built fuel oil tank that every tank installer will be familiar with, go with Granby. Consider adding a second tank if your budget can support it. This will allow you to order more home heating oil at any given time. With this, you can take advantage of price discounts for orders of 200 gallons or more.

In summary, choosing between a Roth double-wall tank and a Granby depends a lot on your personal preferences. The path of least resistance tends to be replacing your existing tank with the same style tank. This will likely reduce labor costs and make the job easier for the HVAC technicians. For a smaller footprint or better warranty, consider investing in a Roth double-wall tank. In either case, make sure to discuss tank gauge options. The Granby will allow you to have a float-style heating oil tank gauge, as well as a Smart Oil Gauge. Ensuring you are able to keep an eye on your tank remotely is a must for 2020.
Resources:
Happy heating,
Steve