Article by Alexander Soule, Hearst Media, February 5, 2020
Like so many entrepreneurs, Steve Williams launched his startup to solve a need — his own needs that is, after he bought a Victorian fixer-upper in Ridgefield, only to discover heating bills that were going through the roof.
Four years later, the bills are under control — and Connected Consumer Fuel continues to build a following for its Smart Oil Gauge sensor that feeds oil tank levels to homeowner mobile phones, along with up-to-date prices for those looking to order an on-the-spot delivery.
Williams and cofounder Joe Mygatt have developed the Smart Oil Gauge quietly in Danbury, even as Google and Amazon have accelerated consumer acceptance of devices like Nest thermostats, Alexa voice assistants and Ring doorbells with enabling technology for remote control via an "Internet of things."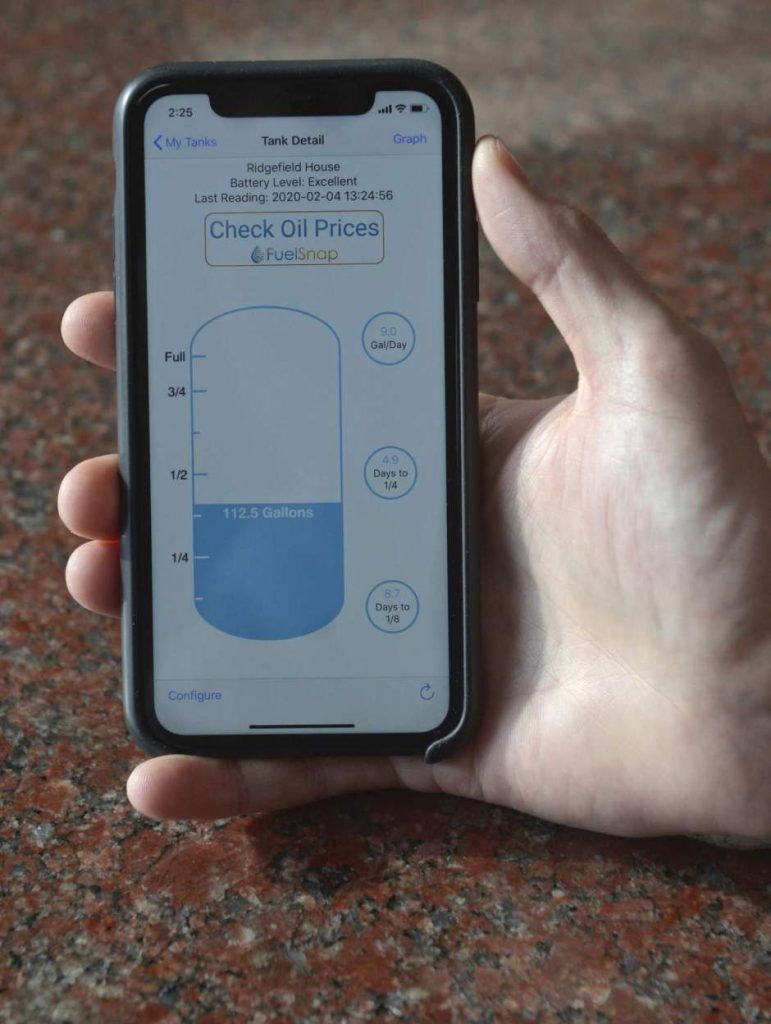 "If you think about it, the IoT space is growing like mad but there are certain little pockets like heating oil tanks that … have not been addressed," Williams said. "If you think about this industry, that (oil) gauge probably hasn't changed in 50 years. It's a cork on the end of a little rod and a hinge. … They are so low tech."
Avon is home to an early IoT innovator in iDevices, which a decade ago used its iGrill wireless meat thermometer as a springboard to developing other products like a propane grill tank fuel monitor, before being acquired three years ago for $60 million by Shelton-based Hubbell.
In setting out to find a way to accurately measure his fast-draining home heating oil tank, Williams leveraged technical experience from his days with Branson Ultrasonics, which is based currently in Danbury with plans to move into a new headquarters that is under construction a short distance north in Brookfield.
He enlisted his Ridgefield childhood friend Mygatt, a Princeton University graduate who worked previously for a robotics company, with the pair sharing a laugh this week at their early Smart Oil Gauge prototypes that amounted to a pile of wiring and a sensor mounted on a bread board.
The Smart Oil Gauge is comparatively elegant today, a white cylinder that screws into the top of oil tanks, pinging ultrasound hourly to deduce oil levels. An accompanying FuelSnap app allows homeowners to generate reports of their fuel consumption, as well as check up-to-date prices of local delivery companies and place orders.
After selling the Smart Oil Gauge initially on Amazon and the company's own website at www.smartoilgauge.com — it is priced at about $160 today — Williams and Mygatt expanded into wholesale channels through heating contractors and oil companies, to include Sid Harvey's, F.W. Webb and Torrco.
That led to a derivative product called Droplet for heating oil delivery companies, with Connected Consumer Fuel estimating it can help those companies get a better estimate on tank levels and eliminate one truck run annually for each customer account, a significant savings to their bottom line in an industry with tight profit margins.
Williams and Mygatt indicated they expect to find additional applications for the platform they have developed to sense tank levels. One market they have explored — but elected not to try to crack — is Canada, due to a wide range of tank designs that would force the company to design any number of iterations in order to fit into tank openings."
Williams said the company may in time seek outside venture investment, but for now is plugging along fine funding the business through regular sales revenue since its 2016 launch and early glitches like dropping off home WiFi networks, which the company was able to solve.
"We built 10 of them and we said, 'All right, if we can sell 10 we'll buy the components to 100 circuit boards,'" Williams said. "We sold 10 in a few days, and then we sold 100. … I am using the 26th one we ever built, and it' still kicking."
Alex.Soule@scni.com; 203-842-2545; @casoulman