Well it's official – heating oil season has started at my house! I changed my air filters, and clicked the heat on yesterday. It's been about a day, and my Smart Oil Gauge shows 6 gallons of heating oil used so far. Eesh. Unfortunately home heating oil prices have gone up since the pandemic started, so folks are going to have to be much more conscientious when it comes to their heating bills this year.
Good news for me is I have a tune-up scheduled for next week. This will ensure my system is running in tip-top condition this season. Below we'll walk through some of the items covered in a tune-up, and why you should schedule one for your own house.
Maintenance Tips Before Your Tune-Up
Before you schedule a tune-up, there's something every homeowner should do: change your air filters! If you have a furnace, it is important to replace your air filters at least once a year. These can get covered in pet hair and dust, and make it very hard for air to pass through your system. Follow these steps for replacing your air filters.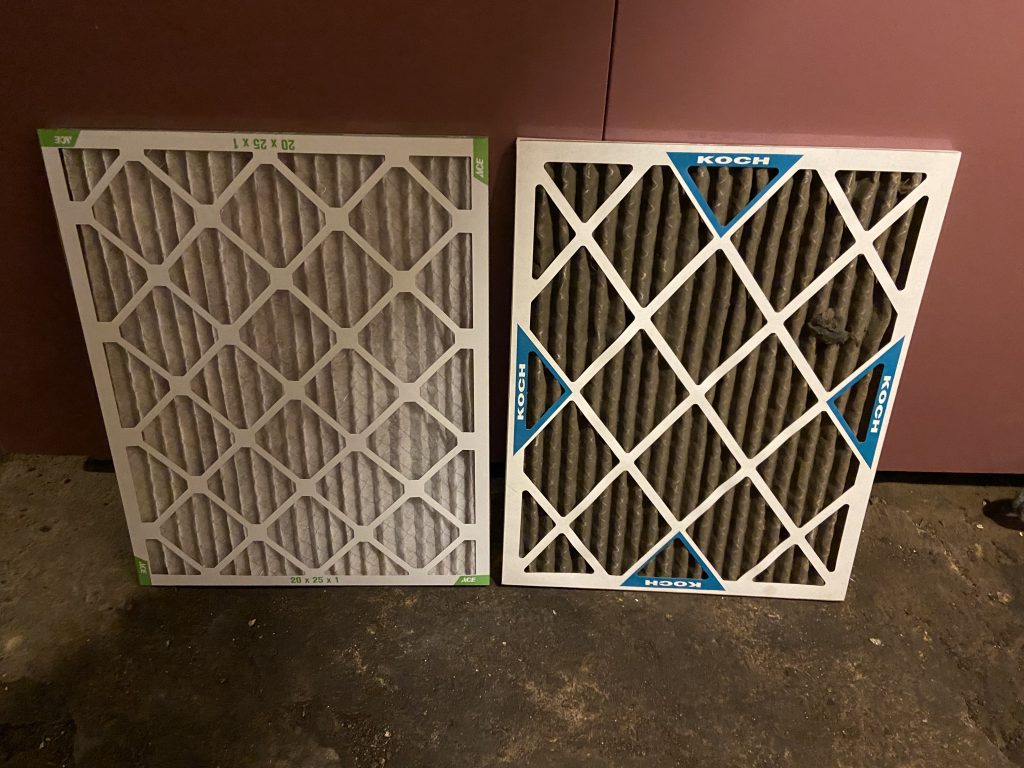 What Is Included In a Heating System Tune-Up
This year, instead of just ordering a tune-up, I signed up for a service contract. It cost $399 and included my tune-up and 24/7 support. Most importantly, I DID NOT BUY THIS SERVICE CONTRACT FROM AN OIL COMPANY! Instead, I bought mine from a local, highly reputable HVAC company Many oil companies offer service contracts only if you sign up for automatic delivery. Sometimes they're even "free!" But in the end, you'll be paying an extra $0.50 to $1 per gallon on heating oil for this "free" service contract. Here's a write-up on the truth about service contracts if you're thinking about one.
Since I purchased my service contract from an HVAC company, I am free to order heating oil online from any supplier I choose . I have a tune-up scheduled for next week, which means the system will run for a little while before they arrive. While not critical, I prefer to "shake off the cobwebs" before the tune-up. This way I can point out any new noises or issues since the system was shut down last season.
A typical tune-up covers the following items:
Check belts
Check CAD cell eye, electrodes, fan/limit control
Change filters (my tune-up only incudes one, so I provide the second)
Check & clean fuel pump strainer
Check heat exchanger & perform combustion efficiency test
Replace burner nozzle
Replace oil filter
Perform vacuum test on oil line
Inspect oil tank, oil line fittings and OSV (oil safety valve)
Check and clean flue pipe
Test pump pressure, solenoid valve, and stack relay
Check thermostat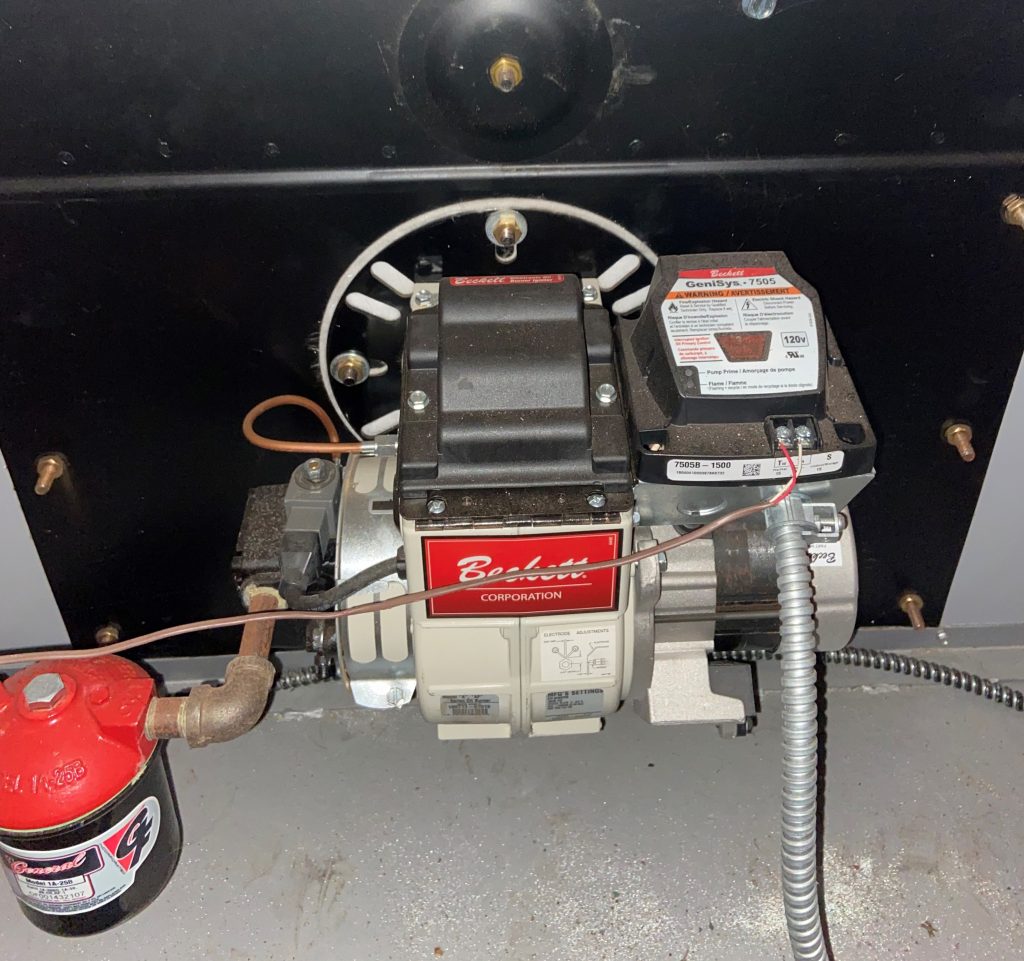 Why Annual Heating System Maintenance is so Important
When I bought my house, it came with a 30 year old Oneida Royal oil-fired furnace. As the crew removed the old furnace, I immediately saw why maintenance was so important.
The first thing they did was remove the flue pipe. The amount of soot built up in here was shocking! They had to literally vacuum it out with a shop vac. Imagine what a backup like this does to a system's efficiency?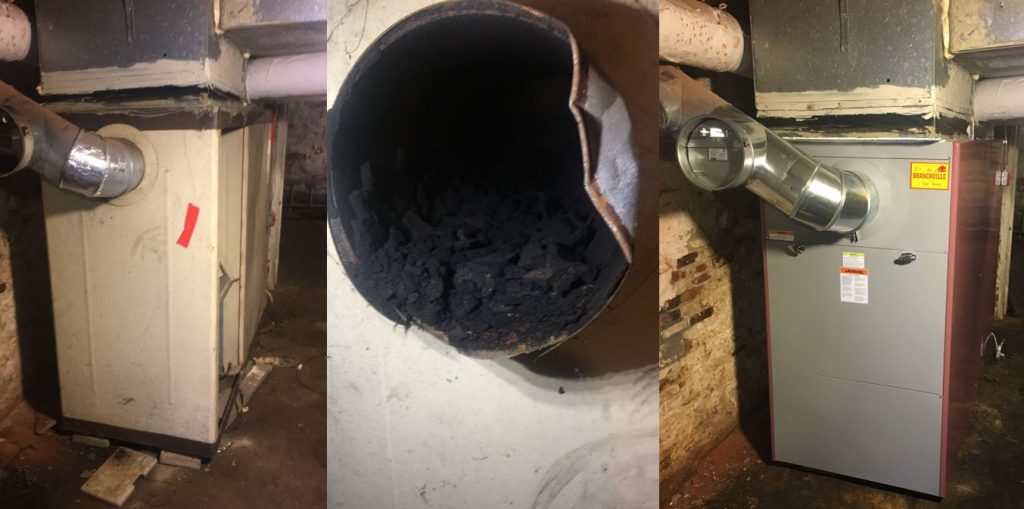 HVAC Annual Maintenance
Whether you opt for a service contract, or just a tune-up, make sure to tend your your heating equipment once a year. And make sure to hire only trusted, licensed and insured HVAC contractors to carry out the work. There are certainly some bad actors out there who are not qualified to do HVAC work. Make sure to do your research and not necessarily go for the best price!
And while you're at it, make sure your heating oil tank is topped off and ready for heating season. Order home heating oil online, and fill up at around a quarter tank to make sure you never run out of heating oil.
Happy heating,
Steve