It's Monday, March 9, 2020, and the week is off to a crazy start. We thought we'd share a few things that are pertinent to heating oil:
Crude Oil dropped 30% last night making now a great time to order heating oil
What Happened? OPEC and its allies failed to strike a deal.
Coronavirus and its impact on our business
Crude Oil Down 30% Last Night
Crude oil prices dropped 30% last night, sending broader markets crashing this morning. The S&P 500 dropped 7% within minutes of the opening bell, prompting what's known as a 'circuit breaker' to trigger. A 'circuit breaker' acts to pause trading temporarily, giving traders time to cool off and understand what is going on. With crude down so significantly, Heating Oil futures dropped nearly 15% as well. If you have room in your tank to fill up on heating oil, now might be a great time to check prices and order heating oil.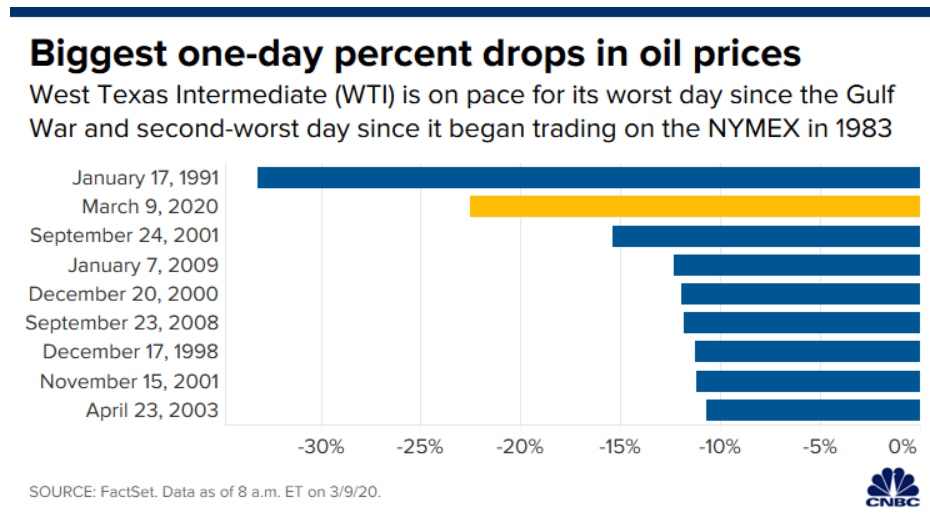 What Happened to Oil Today?
The reason for the major drop in oil was that OPEC and its allies, including Russia, failed to reach a deal to limit upcoming oil production. In response, Saudi Arabia dropped the price at which it sells crude oil. This drop was the biggest in nearly 20 years. This puts tremendous pressure on higher-cost oil producers (those outside of Saudi Arabia). As a result, markets are down dramatically, with the S&P 500 down over 7% as of this writing. More from CNBC here.
Coronavirus And Our Business
I also thought I'd share how Coronavirus is affecting our manufacturing business. As a US-based manufacturer, we source as many components as possible domestically. We have fantastic suppliers throughout the country who we count on for production. That said, we also have a short list of items that we have been unable to source outside China.
One such component is the 1.5″ adapter for the Smart Oil Gauge. After the Chinese New Year celebration, our supplier was closed for a month. This government-mandated shutdown helped curtail the spread of Coronavirus in the region. At the same time, we ended up with lots of new customer awaiting their adapters. Fortunately, the factory has reopened, and all of our back orders have shipped. Thank you to everyone for your patience!
Meanwhile, the first CT resident to test positive for the Coronavirus lives in Wilton. (Wilton is about 10 miles from our office in Danbury.) This individual is being treated at Danbury Hospital (about 5 miles from our office). Needless to say, we're being extra careful, and washing hands as often as possible. Fingers crossed that CT and other states stay out in front of this!
Stay healthy, enjoy this warm spell (70 here today!), and definitely fill that heating oil tank if you can!
Happy heating,
Steve Williams