While heating oil is probably the last thing on your mind during the summer, you may still need to keep track of your tank level! This is because many houses rely on heating oil for not just heat, but also hot water. In this post we'll explore how much heating oil you can expect to use this summer base on the type of house you have, as well as the type of home heating system you use.
Homes That Use Oil For Heating Only
There are four main sources of heat in the US: natural gas, heating oil, propane, and electricity. The same goes for hot water. That said, just because your house has one particular fuel for heat does not mean you use the same fuel for hot water. In my house, for instance, I use heating oil for my furnace (heat), and propane for my hot water heater and stove.
If your house is like mine, and relies on heating oil for heat only, then you can stop worrying about heating oil around mid-May. I have to admit, I did have my heat on last weekend (it was in the 40s!), but that should be it for the summer.
In October or November you can plan on turning it back on again and checking your heating oil tank level. You should also be aware of how long your oil tank lasts.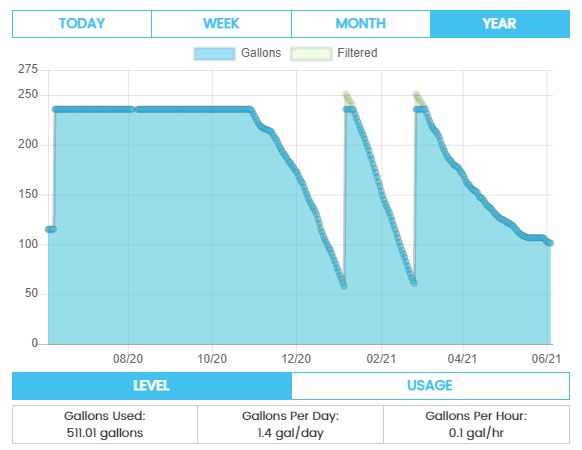 Homes Where Heating Oil is Used For Heat and Hot Water
If your house has an oil-fired hot water heater, then you should plan on monitoring your heating oil level year-round. We highly recommend purchasing a Smart Oil Gauge so you never run out. A Smart Oil Gauge will send you low-level alerts any time of year.
As you can see in the figure below, a home that uses heating oil for both heat and hot water will use significantly less heating oil in the summer months. This particular home used 0.7 gallons per day of heating oil during the summer.
Depending on how often you take hot showers, you can expect your house to use between 0.5 and 1.0 gallons of heating oil per day in the summer.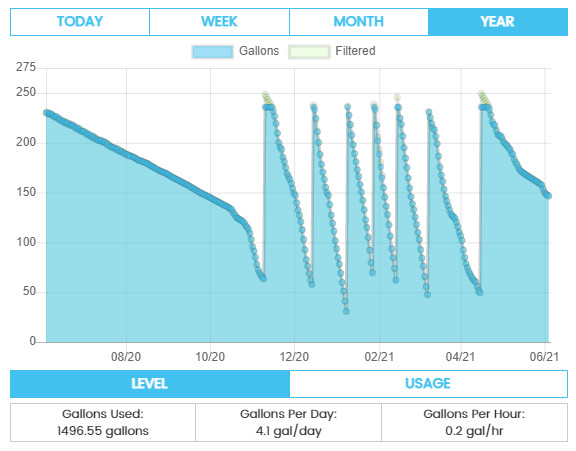 When To Order Heating Oil
In the summer or winter months, we recommend ordering heating oil when your tank gets to 1/4 full. This will ensure that there is plenty of time for the delivery to be made before running out. Make sure to compare heating oil dealers in your area.
It's also good to not let your tank level get too low. If this happens, the incoming oil could stir up some sludge. When your tank is low, check heating oil prices online and place your order right away. Choose from reputable, local suppliers and make sure you have oil in that tank all year.
Stay cool,
Steve