Wow. Heating oil prices are crazy right now. When COVID-19 halted global travel in 2020, heating oil bottomed out at around $1 a gallon. While it has slowly rebounded as the pandemic has gotten under control, it was still manageable at $2.50 to $3 a gallon through most of this year's heating season.
Well, that all changed in the past few weeks. A gallon of heating oil as of today (March 9, 2022) is a minimum of $4.59 right now! In many areas we are seeing prices above $5, and it's WAY worse for folks on automatic delivery. 
Why Are Heating Oil Prices So High Right Now?
Since Putin launch his attack on Ukraine, the world's oil economy has been put under the spotlight. Here are some important things to know about Russia's role in oil production: 
Russia is the #3 largest producer of oil and gas in the world. 
The United States Historically Imports 8% of its oil from Russia. 
Germany relies on Russia for a third of its natural gas through the Nord Stream 1 pipeline. 
Nearly 100% of homes in Italy are heated with natural gas from Russia. 
Now that Putin has begun this war in Ukraine, it is up to Western nations to enact sanctions on Russia, thus cutting off funding to his administration.
Thus far, we have seen American companies take the following actions:
Apple has suspended all sales in Russia
Visa, MasterCard, and American Express have stopped supporting the use of their cards in Russia. 
Exxon and other oil and gas companies have discontinued investments or cut ties with Russian counterparts. 
McDonald's and Starbucks have suspended operations in Russia, although some are still paying their employees.
As a result of this pressure that is mounting on Russia, the global supply of oil is being squeezed. Countries that traditionally buy from Russia are looking elsewhere, and prices are skyrocketing accordingly. 
Prices May Be Declining Soon
President Biden announced yesterday that the US will stop importing any oil from Russia while this war persists. It appears, however, that markets had priced this into the price for oil this week, as prices may have reached a short-term peak yesterday.
According to OilPrice.com, heating oil has dropped 20% today, with rack prices decreasing from a high of $4.44 per gallon on March 8, to a more palatable $3.56 per gallon tonight.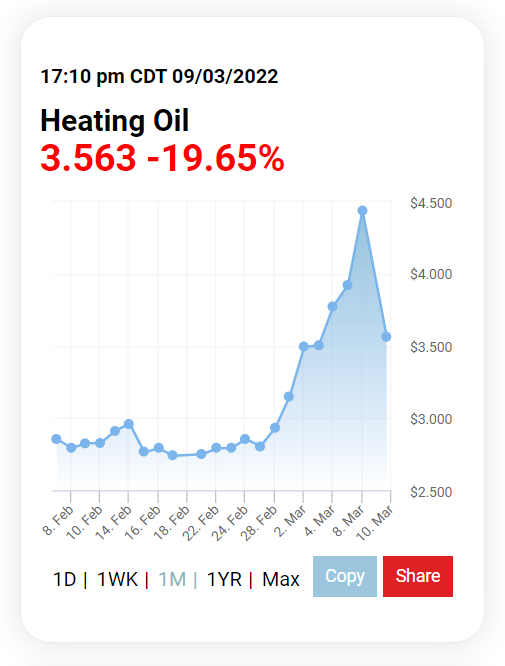 What To Do
Hang in there, folks. If you can, turn the heat down until we get to the end of Winter here. Hopefully this fighting in Ukraine comes to a stop and the US is able to make some energy decisions that lower our reliance on foreign oil. Keep checking oil prices right here, and stay well.
Happy heating,
Steve